4th Beijing International Art Biennale 2010
Official speech by Martina Büttner
Symposium «Ecology and homeland» on September 21st, 2010
… Upon my question, what we can expect from an artistic work concerning our environment today, a friend replied the following: "I am thinking of an important sentence which Wim Wenders, at the time director of the Cannes Film Festival has said: 'We can change the picture of the world and in this way we can change the world.' – I think the belief in something is what matters regardless which artistic medium is used and no matter what is the artistic medium. It is important that artists express their longings and that they have always had the intention to create a better world, more rich and more complex and more diverse." …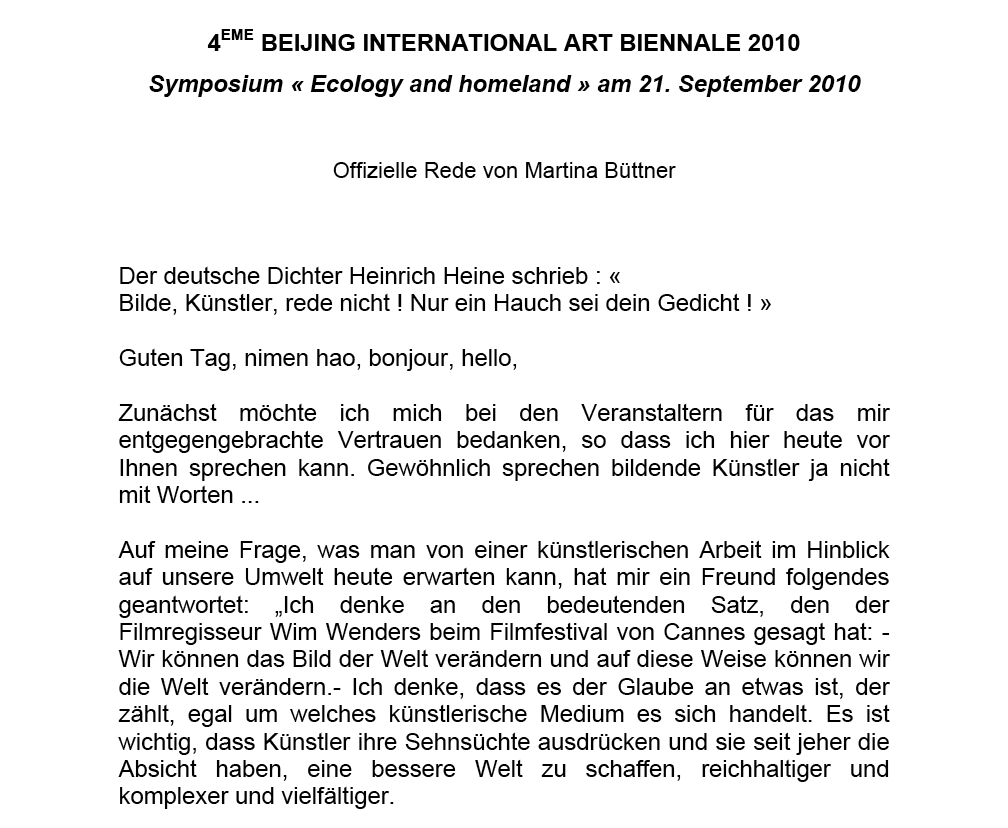 Martina Büttner shows large-format filigree drawings
By Bernd Wähner
Berliner Woche from January 28th, 2015
… She draws landscapes that are overgrown by plants, but she does not paint them – consciously: color would draw the observer's eye onsegments of the picture. Her black-and-white images, however, invite you to a voyage of discovery. If in an apparent rainforest landscape a thoughtful-looking girl is sitting, a bridge is standing and a dump truck is parking, ongoingly new stories are created in the head of the viewer. And whoever looks at the picture again, is again discovering something new ….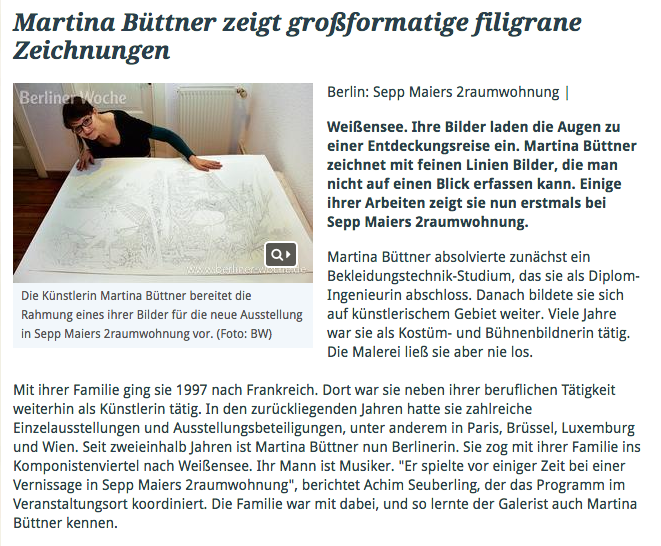 Warning, live toys
Malakoff Infos from June 2011
And if toys led the dance? With Doll(')s fiction, the artist Martina Büttner takes out dolls and soft toys from cartons, a history of better speaking to us about our condition. Embroidered on silky drapes, her dolls make up a couple of scenes, just as strange as familiar. Between gestures of tenderness, maternal or erotic attitudes, they become child, woman and man simultaneously, tracing on the canvas the circle of human life….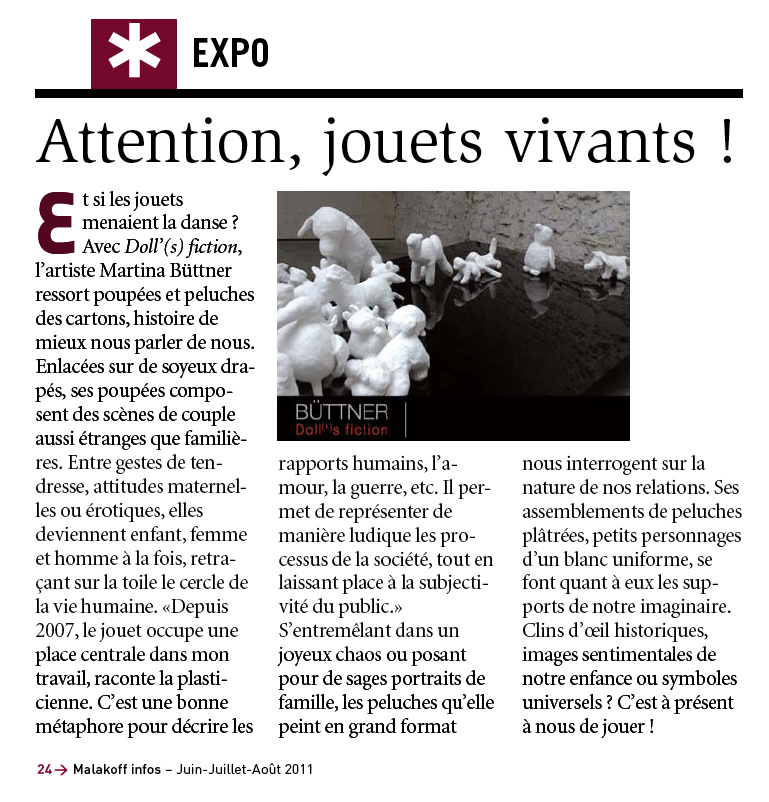 In her pictures is theater
By Hartmann
Ostfriesischer Kurier from August 8th, 2002
How can we remain indifferent when passing in front of her paintings? Large, even monumental are the works on the walls of the Weiterbildungszentrum: Here Martina Büttner presents her works, invited by the Kunstkreis Norden. Native from Hanover, she is living and working since some years in Paris. What she shows in Norden is something unique. Members and friends of the Kunstkreis have seen many works over the last few years – but Martina Büttner introduces a new dimension, as Auguste Rulffes said so well….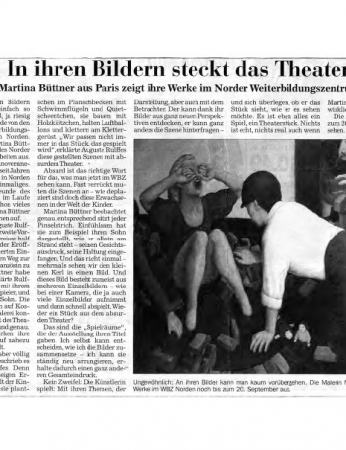 Once again harvest
By Götz J. Pfeiffer
Potsdamer Neueste Nachrichten from November 23rd, 2002
… A nice pictorial, but rather high-priced discovery are the three oil paintings by Martina Büttner, who lives near Paris and who is a member of Gedok since 2001. Her large formats are painted in late-impressionist manner, and all rooted in the genre of children's pictures….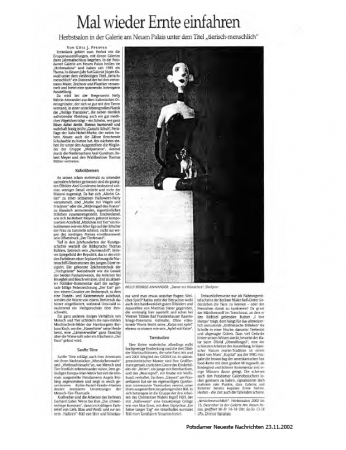 Zekenz: Artists concerned about time
Malakoff Infos from November 2008
Zekenz invites the art of time and artists who like to cut, stop, repeat, and unfold it: the purpose of this new association is thus clearly defined. The member artists have found together by the same inspiration and aspiration: the time….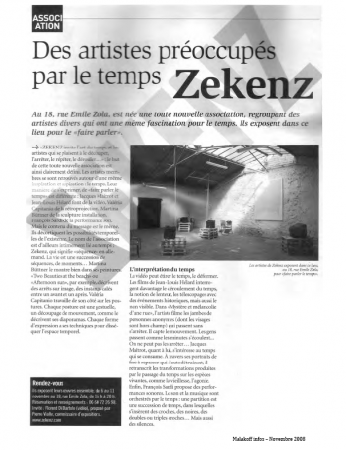 A painter in search playing with forms to play the game
By Juliane Lehmann
Hamelner Anzeiger from March 5th, 2003
Seven perching in a sandbox, doing what is usually done there: they dig, they talkt o eahc other, one of them shoots with a water pistol, another holds his hand in front of his face. But those who play are not children. They are adults. An idea which the artist from Hanover living in Malakoff near Paris pursues on a series of large-format oil paintings, at first sight realistic – and to see on two dozen paintings in the exhibition "Playgrounds" at Kunstkreis Hameln until April 4th…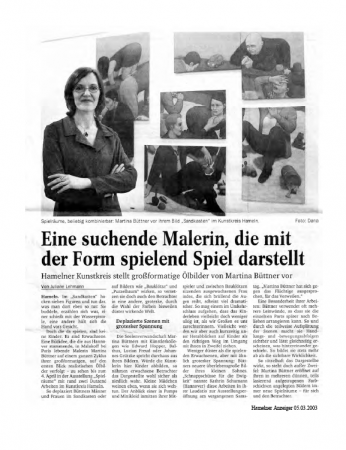 Disassembled as a child's game
By Beate Vogt-Gladigau
Allgemeine Zeitung Mainz-Bad Kreuznach from Mai 31st, 2001
In her paintings, Martina Büttner nests details to an overall situation in her oil paitnings; she keeps moments which stay in context to a story but which isn't shown here. "Puzzles", so she named her exhibition, opens on Friday, June 1 by Bodo Zapp at the Künstlerbahnhof Ebernburg. Most of her works originate from the previous year. …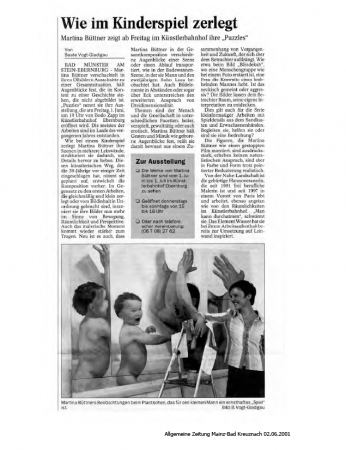 Adults who play
By Anna Franzke
Märkische Allgmeine from Mai 17th, 2003
"Spielräume" is the name of the exhibition of the painter Martina Büttner which was inaugurated this Thursday at the Communication Center of Biotechnologypark at Luckenwalde. Büttner's "Spielräume" are large format paintings similar to a puzzle which show adults who are playing. With bright colours (…), the painter projects the characters "into the world of child play" according to art historian Gerlinde Förster….